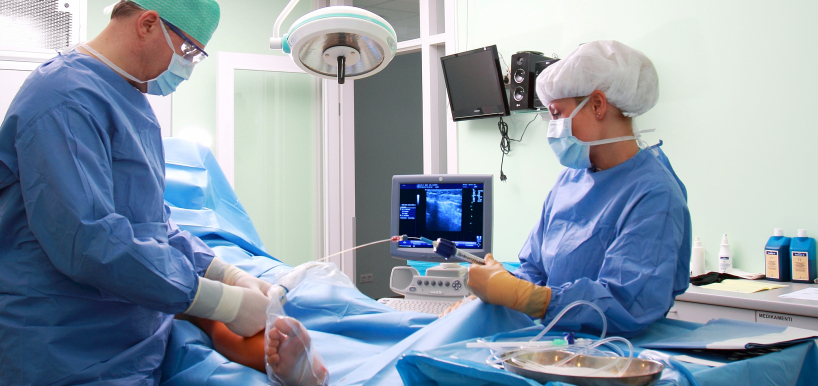 Now, vein surgery rarely means tearing out diseased veins through incisions in the skin. Vein ablation has become a standard procedure due to the development of vein surgery – closure using various highly sparing techniques or their combination (radiofrequency, laser, steam microimpulses, bioadhesive).
After the manipulations, the patient can go home immediately and return to usual activities on the same day or the following day. The selection of the right technique is the precondition of successful treatment. The Baltic Vein Clinic provides the entire range of the globally recognised, cutting-edge and effective vein treatment techniques and has become a model of personalised medicine.
   115 K. Barona Street, Riga
Choose the best and the right one for you!
Our specialists choose the type of surgery that best suits the patient. When the treatment plan is developed, doctors consider the patient's health state and secondary factors such as rhythm of life, work specifics, habits, mobility, physical and financial capabilities, etc.
We urge patients to consider the recommendations when choosing the type and place of surgery:
Make sure your surgeon has all treatment techniques at his disposal:
echotherapy;
vein closure using the VenaSeal™ Closure System;
steam microimpulse method;
radiofrequency surgery;
laser surgery;
TOTAL EVLA technique;
classical vein surgeries.
The surgeon should choose the method that best suits you, not the only method available!
Make sure that the price quote of the clinic includes all costs:
cost of surgery;
anaesthesia;
cost of materials;
stay in the clinic;
cost of pre- and post-operative consultations;
compression stockings (there are surgical techniques that do not require compression stockings). 
Some clinics include these costs in one price, in other clinics they turn out to be an unpleasant surprise after surgery.  
If you are invited to participate in surgeries that are part of clinical trials, YOU SHOULD KNOW that clinical trials are free of charge in Latvia and in the European Union, i.e., the organiser pays the patient for participating in the trial. The patient should never have to pay for participation in these trials. All legal clinical trials must be registered with the State Agency for Medicines www.zva.gov.lv.
Currently available vein surgery techniques: