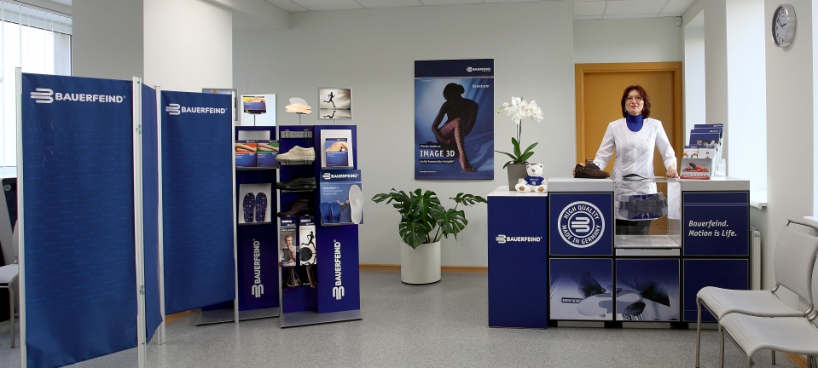 Compression is the most important and most effective method of combined treatment in case of chronic venous insufficiency, when maintaining the vein health is especially important. A properly applied bandage prevents the blood flow in the opposite direction and vein blockage. Compression stockings are intended both for prevention and combined treatment of leg vein diseases. Due to certain compression pressure, compression stockings ensure micro-massage effect during movements that successfully improves blood circulation (outflow) in the leg veins.
 Barona iela 115, Rīga, Latvija
Choose the best and the right one for you!
THERAPEUTIC AND PREVENTIVE COMPRESSION STOCKINGS
Compression stockings are recommended for people standing or sitting for long periods of time at work (salespersons, hairdressers, office workers, etc.), as blood pools in the lower legs and feet because of gravitational force, causing a sensation of heaviness or swelling. 
Compression stockings are suitable for women and men. Therapeutic compression stockings with the appropriate degree of compression are prescribed by a physician after evaluating the condition of the veins and the nature of the issue and establishing the anatomical features of the veins. At this stage it is important to identify the anatomically most suitable model of compression stockings. 
The Baltic Vein Clinic is the only clinic providing digital measurements from the tips of the toes to the hips. The circumference and length of the leg is calculated using the 3D image to select the most suitable size of compression stockings and tights.
Quality of compression stockings
The effect of compression stockings depends on their quality. The most important factors to consider when choosing compression stockings:
compliance with therapeutic requirements;
compression stockings do not change the identified pressure for 6 months;
stockings are made of breathable microfibre;
ensures protection of the skin – compression stockings are treated with natural substances softening the skin;
precise measurements of the legs have been made – the most accurate measurements are made with 3D technology.
The aforesaid requirements are met by VenoTrain compression stockings made in Germany. Only high-quality compression stockings will make you feel comfortable and have the desired therapeutic effect. More information about VenoTrain compression stockings: www.bauerfeind.lv
WHEN SHOULD COMPRESSION BANDAGES BE APPLIED? 
Compression bandages are recommended for any type of venous insufficiency.  Compression not only contributes to the healing of trophic ulcers but is also effective in preventing them. The use of compression bandages reduces the vein diameter, swelling, pain and heaviness in the leg.
Medical indications for the application of compression bandages: 
prevention and treatment of chronic diseases (compression therapy);
protection of joints, ligaments, and muscles against injuries in case of physical strain (static and dynamic);
prompt first aid (to fix injured body parts);
recovery from injuries.
ADVANTAGES OF COMPRESSION BANDAGES:
bandages and dressings are budget-friendly and easy to use;
different types of bandages are manufactured for traumatology, phlebology, and orthopaedic practice: bandages, tubular bandages, and mesh bandages;  
the wide range includes different fields of medical application: from the fixation of dressings to the prevention, treatment and rehabilitation of vein, joint and muscle diseases;
natural raw materials such as wool, cotton and latex are used in manufacturing to ensure maximum comfort for users.  
The necessary type of compression bandages should be recommended by a physician!
Short-stretch bandages (stretch at least 30%) – for treatment of types of venous insufficiency and deep vein thrombosis, enable fast bandaging when providing first aid, provide comfortable and secure fixation of bandages on injured parts of the body;
medium-stretch bandages (stretch at least 100%) – for the treatment of varicose veins, when treating diseases with trophic complications, post-phlebitis syndrome. Recommended for soft tissue support after plaster cast removal and compression sclerotherapy; 
high-stretch bandages (stretch at least 150%) – for the treatment of degree 1 and 2 varicose veins, treatment of lipodermic diseases, applied in the postoperative period in case of lymphoedema, to ensure rest of the joints after injuries or surgeries, recommended for bandaging bedridden patients.