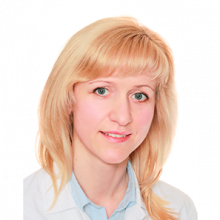 Certified internist, family doctor specializing in phlebology.
Patients are admitted:
"Baltic Vein Clinic"
115 Kr. Barona Street, Riga
Phone: 67847200
"Dermatology Clinic"
50 Skanstes Street, Riga
Tālr.: 67847102
"Capital Clinic Riga" 
 15A Duntes Street, Riga
Tālr.: 66333333
Apply for consultation
Irina Karpova (ex.Kajuna)
Member of Latvian Society of Phlebology, Member of Latvian Association of General Practitioners, Member of Latvian Society of Internal Medicine.
Performs: foam and liquid sclerotherapy technique under US guidance; capillary diathermocoagulation; DUPLEX ultrasound of blood vessels, especially leg vein DUPLEX ultrasound.
Provides both paid and paid services of the National Health Service (NSS), insurance companies.