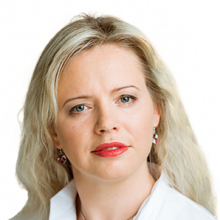 Certified vascular surgeon
Patients are admitted:
"Baltic Vein Clinic"
115 Kr. Barona Street, Riga
Phone: 67847200
"Jugla Clinic" 
410 Brīvības gatve, Riga
Tālr.: 67136282
"Anti - Aging Institute"
18 Baznīcas Street , Riga
Tālr.: 67847718
Apply for consultation
Patricija Ivanova
Certified vascular surgeon, Doctor of Medical Science, assistant professor of the Chair of Surgery, LU, Member of the Latvian Association of Vascular Surgeons, Member of Latvian Association of Invasive Radiology, Member of the European Association of Vascular Surgeons, Member of the European Association of Cardiovascular and Invasive Radiology
Services offered to patients: Consultations in case of arterial and venous diseases; Specialises in minimally invasive (endovascular) surgeries; Performs blood vessel catheterisations, recanalisation, thrombectomy, vascular angioplasty surgeries, stent implantations, etc.; Performs embolisation of vascular masses and blood vessels; Performs conventional open surgeries of arteries and veins
Provides both paid and paid services of the National Health Service (NSS), insurance companies.
Education:
Underwent training and mastered endovascular treatment techniques and conventional open vascular surgery in high-profile clinics in Germany, Spain, Italy, and Portugal.
1998-2004 Faculty of Medicine, University of Latvia, physician's degree, rector's certificate of appreciation
2004-2010 Residency in vascular surgery, Riga Stradiņš University
2004-2014 Studies in doctoral programme, Faculty of Medicine, University of Latvia
2014 Defended the PhD thesis and obtained the degree of Doctor of Medical Science; is the author and co-author of many international and local publications.
Feedback
Heartfelt thanks to Patrīcija Ivanova, her assistants and especially to Veronika for the cordial welcome and care. The assistant professor is a great professional! I hope that this method will be available to many more patients in the future because the whole process was comfortable, painless and quite fast.
I would like to thank the doctor once again.
You have gifted hands!!!
Thanks to wonderful Dr Patrīcija Ivanova and her kind-hearted team! For successful and not at all painful surgery! Good luck in your future work! Thank you!
Paldies ārstei Patrīcijai Ivanovai un viņas asistentēm. Paldies māsiņai Ilzei par rūpēm.