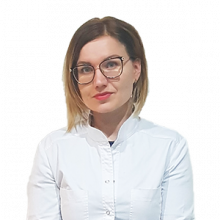 Surgeon specializing in phlebology and proctology
Patients are admitted:
"Baltic Vein Clinic"
115 Kr. Barona Street, Riga
Phone: 67847200
"Jugla Clinic" 
410 Brīvības gatve, Riga
Tālr.: 67136282
"Anti - Aging Institute"
18 Baznīcas Street , Riga
Tālr.: 67847718
Private Clinic "Ģimenes veselība"
10A Ģimnāzijas Street,2 а, Daugavpils 
Tālr.: 65427075
Apply for consultation
Anastasija Valuka 
Provides consultations, implements therapy and dynamic follow-up in the event of surgical, proctological and phlebological diseases in adults.
Provides services covered by insurance companies and fee-based services.
Feedback
My sincere gratitude to Dr Anastasija Vaļuka, nurse Vija, anaesthesiologist and everyone who took care of me in the operating room. I wish you endurance, health and all the best!
Many thanks to Dr Anastasija Vaļuka and nurses for their support and excellent work. I am very grateful to you.
Thanks to Dr Anastasija Vaļuka and her entire team for their great attitude towards the patient. Many thanks to the girl in green overalls!
Many thanks to surgeon Anastasija Vaļuka! Highly qualified, kind specialists, not once have I been disappointed with the services provided.
The experience is always satisfactory. Thanks to the attending specialist – surgeon Dr Anastasija Vaļuka for ensuring as "pleasant" experience as possible during a consultation of a proctologist. Highly competent, kind, helpful in understanding, professionalism.
​Patīkama vide un apkalpošana, Anastasija Vaļuka atbildēja skaidri un izsmeļoši uz visiem jautājumiem.
Fleboloģe, proktoloģe dr. Anastasija Vaļuka vienmēr pieejama komunikācijai. Māsiņa ļoti uzmanīga. Esmu apmierināta ar visu med. personālu, kas veica izmeklējumus un operāciju.