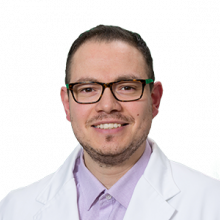 Certified vascular surgeon, phlebologist
Patients are admitted:
"Baltic Vein Clinic"
115 Kr. Barona Street, Riga
Phone: 67847200
Private Clinic "Ģimenes veselība"
10A Ģimnāzijas Street,2 а, Daugavpils
Phone: 65427075
"Diagnostic Centre"
1 Grebenščikova Street, Riga
Phone: 67144031
"Veselības centrs 4" in the branch "Valdlauči"
5 Atpūtas Street , Riga
Phone: 67896345
Apply for consultation
Georges Jabbour
He was the first in the Baltics to perform venous surgery using hypnosis, Member of Latvian Society for Vascular Surgery, Member of Latvian Society of Phlebology, Member of the European Society for Vascular Surgery.
Specializes in DUPLEX ultrasound, diagnostics and treatment of leg veins and arteries.
Performs all kinds of vein surgeries:
venous closure using bioadhesive,
steam microimpulse endovenous thermal occlusion (SVS),
endovenous laser surgeries (EVLT),
endovenous radiofrequency obliteration (VNUS Closure FAST),
venous surgeries as per Muller-Varady method.
Performs varicose vein sclerotherapy.
Feedback
Heartfelt thanks to Dr Žoržs Žabūrs and his nurses for their professional attitude, positive energy and care! Good luck!
Thanks to Dr Ž. Žabūram and the wonderful nurses for their heartfelt and clear explanations of what to expect before and after the surgery, allowing you to relax and fully trust what is going on. Special thanks to Dr Ž. Žabūrs for saying "sorry" so often before each puncture – I wish men could say sorry for everything so often... :) You made up for it!... The surgery and the whole course of it was excellent!
If only I had known that this place was so nice,
I would have come long ago, cut out all the veins!
I'm happy to go home now, because the doctor maked my legs beautiful!
I feel like a young girl and will wear a mini dress!

Žoržs Žabūrs! - oh, I'm at a loss for words, I want to sing a song like this:
"Black eyes, passionate eyes, Burning and beautiful eyes! How I feared you,
but now how I love you!
It is great that we met in April.
Many, many thanks to everyone!
Lai visiem veselība! Lai arī citiem pacientiem izdodas tā pat kā man! Mīļš paldies dakterim Žoržam Žabūram un viņa māsiņām!