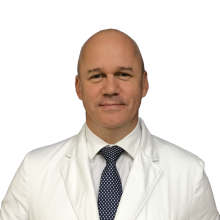 Vascular surgeon, phlebologist, surgeon, vascular ultrasonodoplerography specialist. Leading specialist of the Baltic Vein Clinic.
Patients are admitted:
"Baltic Vein Clinic"
115 Kr. Barona Street, Riga
Phone: 67847200
"Dermatology Clinic"
50 Skanstes Street, Riga
Phone: 67847102
"Capital Clinic Riga"
15A Duntes Street, Riga
Phone: 66333333
Apply for consultation
Ints Udris
Member of the Latvian Society for Vascular Surgery, Member of the Latvian Society of Surgeons, Member of the Latvian Society of Phlebology, Member of the European Venous Forum, President of the Latvian Wound Management Treatment Association.
Vascular surgeon, phlebologist, surgeon, vascular ultrasonodoplerography specialist. Leading specialist of the Baltic Vein Clinic.
Performs all kinds of surgeries:
vein closure using bioglue;
steam vein sclerosis (SVS);
endovenous laser treatment (EVT);
endovenous radiofrequency ablation (ERFA);
vein surgeries according to Miller-Varady method.
Performs 500 endoluminal vein surgeries per year.
To obtain the best cosmetic result, the doctor uses foam sclerotherapy of veins(also under US control), diathermocoagulation, transcutaneous laser treatmentwith diode (808nm) and (980nm), Nd Yag (1064nm) lasers, with which he closes small veins.
Brown skin pigmentation caused by vein insufficiency on shins is removed usingRubīna Q switch (694nm) transcutaneous laser or IPL technologies.
Performs treatment of trophic ulcers, using latest technologies, wound management methods and materials.
To clean wounds and stimulate caricatrization he uses photodynamic treatment with patented Eufoton 800 SCANNEmaR™ technology.
Performs reduction of keloid scars and photo skin renovation, combining different laser procedures.
Consults and treats patients with different arterial diseases and performs reconstructive surgery in the Vascular Surgery Department of RECUH ''Gailezers'', if required.
Feedback
Thanks so much to Dr Ūdris!
My feet don't hurt!
I am happy!
Thank you, nurses!
Thank you, thank you, thank you!

Thanks so much to Dr Ints Ūdris and his team! Everything happened quickly and painlessly. I wish good health to you all!
I thank Dr I. Ūdris and the nurses for their professionalism and genuine sensitivity. I am happy and satisfied with the vein surgery I had. Good luck for the future work!
All honour to the medics.
Thanks to Dr Ūdris for meeting him at the Sigulda ski slope and deciding to finally get fit. A super surgery! Way to go, and there will be many happy and healthy people in Latvia!
Many thanks to Dr Ints Ūdris and his team for their work, support, kind heartedness, and attention!
Many thanks to Dr Ūdris and the rest of the medical personnel!
Very cordial attitude!
I was pleasantly surprised!

Thanks to Dr Ūdris, Guna and his wonderful team! Very patient and nice doctors and wonderful attitude! Thank you also for letting me help choose the music during the surgery!
I like the facilities, the staff at the Baltic Vein Clinic, all the specialists are available. I like the normal attitude towards normal people, not people who are afraid of their job. Many thanks to Ints Udris!
I wanted to express my gratitude to Dr I. Ūdris! A great doctor with gifted hands! Thank you for helping people regain the health and beauty of their feet! Thank you!
Dr Udris is very professional, friendly and caring. Thank you, I am satisfied!
Esmu ļoti apmierināta ar flebologa Inta Ūdra un medmāsu darbu. Viss bija komfortabli!
Esmu apmierināta ar sniegtajiem pakalpojumiem. Atsaucīgi un laipni darbinieki. Paldies flebologam Intam Ūdrim!
Ārsti zinoši - savā jomā labākie. Medmāsas laipnas, izpalīdzīgas, pacietīgas. Ieteiktu dermatoloģi M. Mihailovu - zinoša, arī flebologu Intu Ūdri, jo daudzām sievietēm ir venozās problēmas.
Ļoti apmierina flebologa Inta Ūdra augstākā kompetence, profesionālisms kopumā ar attieksmi, uzmanību. Medmāsa - gudriniece, jauka attieksme, profesionalitāte, zināšanas. Vērtējums - 10 balles!
Darbinieku attieksme ļoti laba, pretimnākoša. Ar laipnību un nomierinošiem un mīļiem vārdiem. Paldies par to Jums - Ints Ūdris. Pastāstīju arī citiem par operācijas norisi - nav jābaidās, viss izdevās lieliski, esmu apmierināta. Novēlu, lai Jūs sniegtu palīdzību visiem, kas slimo ar šo kaiti. Lai Jums veicas visās jomās!
Augsta profesionalitāte, iejūtīga, laipna attieksme no flebologa Inta Ūdra Labs serviss, laba profesionāļu komanda, tēls.
Ļoti laipni iejūtīgi speciālisti, visu izskaidro. Flebologs dr. Ints Ūdris zinošs speciālists. Esmu jau ieteikusi paziņai, jo šeit strādā zinoši speciālisti. Tāpat turpināt. Vēlu veiksmi!
Ārstu profesionalitāte, atsaucīga, laipna attieksme. Sirsnīgs paldies Intam Ūdrim - pozitīva pieredze!
Lielā sirsnībā pateicos dr. Ūdrim, Gunai un citiem profesionāļiem! Jābaidās no operācijas nav! Rezultāti noteikti būs lielisks un mans sapnis pēc ilgiem laikiem vasarā uzvilkt kādu īsāku kleitu noteikti īstenošu!
Nu ko, lai saka… Esmu vienreizēji pozitīvi iespaidota no ārkārtīgi pozitīvās attieksmes, sākot ar manu 1.vizīti 7.oktobrī pie fascinējoša dr. Inta Ūdra un viņa palīdzes Gunas! Un šodien vēl šai komandai piepulcināja anesteziologu Gunti Strazdu un jauno māsiņu Eviju! Visas bailes tika momentā noņemtas, esmu pacilāta! Ļoti priecājos, ka izvēlējos operācijai tieši šo jauko, smaidīgo dr. Intu Ūdri! Man ir liels, liels prieks! Un godīgi sakot, pirmo reizi dzīvē sastopos ar tik jauku atmosfēru ārstniecības iestādē! Lai Jums visiem veicas! Vēlreiz mīļš paldies!
Milzīgs PALDIES fantastiskajam ārkārtīgi profesionālajam dr. Intam Ūdrim, viņa superasistentei Gunai un ļoti iedrošinošajam anesteziologam Guntim Strazdam par man veikto vēnu operāciju š.g. 14.dec. Šī komanda ir vislabākā pasaulē!
Ļoti liels paldies dr. Ūdrim un Gunai! Un arī pārējiem, kas atradās operācijas zālē. Jūs visi piepildat cilvēku sapņus ikdienas un varat lepoties ar savu darbu! Paldies par Jūsu rūpēm, profesionalitāti, sapratni, ātru rīkošanos un par to, ka vienkārši esat! Noteikti šeit vēl atgriezīšos, ja tas būs nepieciešams, jo zinu, ka šajai superīgajai komandai var uzticēties. Paldies!
Dr. Ūdris ir lielisks! Tāpat viņa asistente un viss pārējais stafs! Ļauj pārdzīvot visu viegli! Paldies!
Sasirgusi biju dikti,
Kājas tiešām jutās slikti,
Tomēr dakteris ar prieku,
Kaiti pieveica kā nieku.

Māsiņas man prētī smaida,
Sistēmas man pa vēnām laida,
Visu smalki izstāstīja,
Lai es pie veselības tiktu.

Visiem milzīgu paldies vēlos teikt!
Paldies, ka esat Jūs!
Kas vienmēr glābj cilvēkus!
Paldies dakterim Intam Ūdrim, Gunai un māsiņām, kas piedalījās operācijā! Kristīnei par attieksmi paldies!