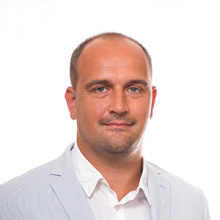 Surgeon - Doctor of Medicine
Patients are admitted:
"Baltic Vein Clinic"
115 Kr. Barona Street, Riga
Phone: 67847200
"Dermatology Clinic"
50 Skanstes Street, Riga
Phone: 67847102
"Anti - Aging Institute"
18 Baznīcas Street, Riga
Tālr.: 67847718
Apply for consultation
Andris Gardovskis
Dr med., Professor, Head of the Proktology Service of the Baltic Vascular Clinic
Provides following services to the patients: Diagnostics and treatment of proctological diseases (haemorrhoids, rectal fissures, fistulas, polyps, condylomas, etc.); Diagnostics and surgical treatment of colon and rectal cancer (conventional and laparoscopic surgical treatment); Endocrine surgery (thyroid gland, parathyroid glands, adrenal glands); Minimally invasive laparoscopic abdominal surgery (laparoscopic holecystectomy, appendectomy, splitting of addhesions, reconstructive surgery for inguinal hernia); Conventional inguinal, umbilical, linea alba and postoperative hernias.
Provides both paid and paid services of the National Health Service (NSS), insurance companies.
Feedback
Thank you to all the masters of their craft – Dr Andris Gardovskis, Guntis Strazds, nurses Žanna and Klinta.
I came here scared and in tears.
Guntis Strazds could calm me down the best.
Once again thank you, thank you!
Thanks to Dr Andris Gardovskis, anaestesiologist Gatis and nurse Žanna for their professional work and pleasant attitude.
Thanks to Dr Gardovskis, Dr. Mihailovs, thanks to the anaesthetist for very good attitude to patients and, of course, for their professionalism. Thanks to the nurse Žanna for her care, and to everyone else.
Many thanks to Dr Andris Gardovskis for an excellent, professional surgery, to the whole team, especially nurse Žanna for her care.
Many thanks to Dr. A. Gardovskis for a professionally performed surgery and also for his human attitude. Special thanks to the excellent anaesthetist for his positive/friendly attitude and his job well done!
Many thanks to nurse Žanna for her positive and professional attitude. You are a great team!
Many thanks for professionalism and cordiality! You are a super team! A. Gardovskis, G. Strazds, nurse Žanna.